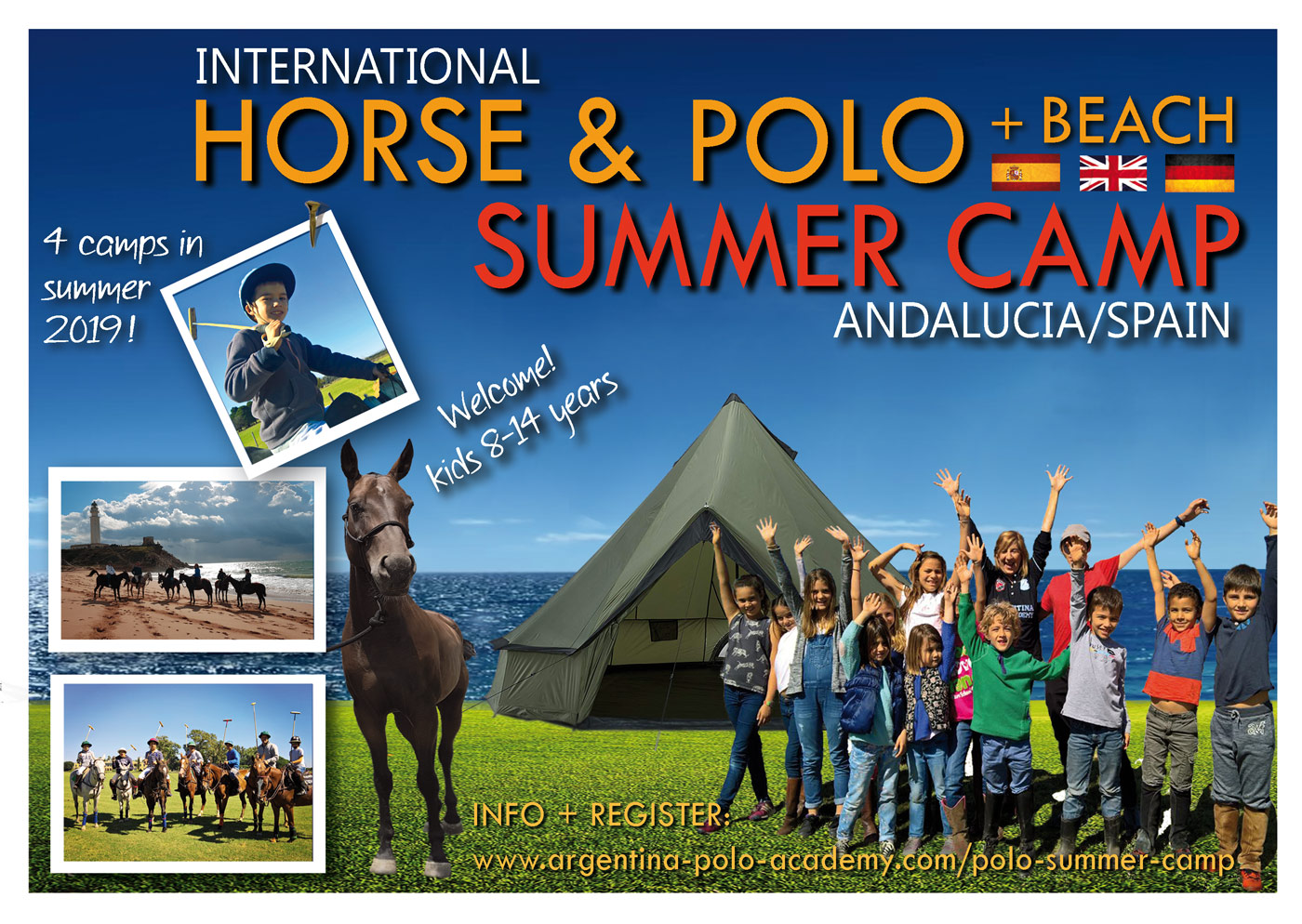 WELCOME TO THE INTERNATIONAL
HORSE + POLO SUMMER CAMP 2019!
Uniquely located along the virgin beaches of Costa del la Luz on the spacious Trafalgar Polo ranch, the International Horse & Polo Summer Camp in Andalucia/Spain offers the experience of a lifetime…

There are 4 CAMPS in 2019…
July: 15-20th + 22-27th
August: 5-10th + 12-17th
Horse-loving kids ages 8-14 are welcome to join the Camp, whether absolute beginner or experienced rider.
All kids will get a profound insight in polo & horse riding, guided by professionals of the prestigious Argentina Polo Academy. The equestrian program presents the unique possibility to immerge into the fascinating sport of polo even for riders who so far did not get in touch with it. Furthermore it offers the thrilling atmosphere of an International Camp to meet people of different countries and make forever friends  in a very exciting environment. 

Highlights include:
Daily polo & natural riding classes with different groups for beginners to experienced riders, guided by professionals of the prestigious Argentina Polo Academy.
Learn to understand horses, learn about horsemanship, equestrian communication and how to take care for "your" horse at the camp
Play with your team in the final polo tournament (even if you just started with polo – the Horse & Summer Camp will prepare you to participate!) and prepare your match strategy with instructional chukkers and team building games
Make new international friends from different countries, talk in English, Spanish and German and stay with them right next to the horses in the cosy forest bell tent camp (there are girls tents and boys tents)
Lots of fun and activities! Enjoy a night trail, beach rides, campfires and the incredible beach with your team & friends!
The location…
… is just incredible. The private finca belongs to the new Trafalgar Polo Club, situated less than 50mts from one of the last virgin beaches in Spain, called Playa Mangueta, part of the beautiful Costa de la Luz in Andalusia/South of Spain.
If parents would like to stay we recommend the Trafalgar Polo Hotel, a beautiful boutique hotel right next to the polo field and the beach.
"Can I take part if I am still a beginner in polo or riding?"
Yes, you can! We will have different groups designed for all levels of riding and polo. So everybody will enjoy and learn a lot, no matter how much you know at the beginning of the Camp!
Some straightforward information…
The camp is open for boys and girls from 8 to 14 years, all riding & polo level.
Accomodation in the bell tent camp and all meals included.
Airport transfer available (the International airport Jerez de la Frontera is less than 1 hour away).
Only a limited amount of spots available in the Camp each week!
Duration: 6 days/5 nights. The camp starts on Mondays at 11hs and ends on Saturdays at 16hs.
Optional: stay for both camps in July or for both camps in August and get the Sunday for free!
What shall I take with me?
Please bring your riding boots (if you don´t have boots please bring trainers). If you have your own helmet and your own mallets you are welcome to bring those also. All other riding equipment will be provided by the academy. And of course do not forget to bring your swimming gear! No need to bring food or drinks, there is everything in the Camp. You will like it!
How can I join?
Just fill in the application form. You will get a confirmation from the Argentina Polo Academy. Once you got it you can send the deposit (non refundable) of EUR 250,- via the paypal-botton below or via bank transfer. With the Academies confirmation and the deposit your place is reserved. Welcome to the Camp, we are looking forward to meeting you!
How much is the tour?
Price per child:   EUR 960,-                                Sisters or brothers: EUR 900,-
Included: the complete program, full board & accomodation. VAT also included.
Option: Stay for both camps in July or for both camps in August: EUR 1.800,- (two weeks).
Please note:
Personal health insurance (valid for Spain) and membership in the Spanish Polo Federation is mandatory (EUR 85), the membership includes the Allianz Accident Insurance. We are happy to help you to sign up!
Payment+ cancellation policy: 
Deposit for registration: 25%. Final payment (75%) until 30 days before the Camp starts.
Payment is possible via Paypal, bank transfer or cash.
The tour price is not refundable, anyway in case of illness your child will receive a voucher to attend any other camp or polo days at the Academy. Minimum and maximum attendance requirements exist for all camps. Argentina Polo Academy reserves the right to cancel or change any scheduled activities due to lack of enrollment, unforeseen weather conditions, etc.
Any more questions?
We are happy to answer them!
– send an email: info@argentina-polo-academy.com
– send a whatsapp or call Marion at: +34 611 417 533
LIMITED PLACES! If you like to take part please inform us via this form: